CNN REPORTS: Vivid Heats Up Hollywood With Porn
CNN ENTERTAINMENT FEATURE REPORT:
Wednesday, October 19th, 2011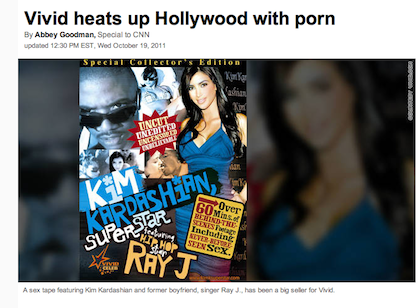 (CNN) -- In August, while 450 of Hollywood's A-list guests gathered at a lavish estate in California to celebrate Kim Kardashian's fairytale wedding, about 2 million people honored the special occasion in their own way: by watching "Kim Kardashian, Superstar," the hardcore sex tape she made with musician Ray J.on the website of the adult video company Vivid Entertainment.
Vivid is one of the most well-known companies in the porn industry -- its superhero parody flick "Batman XXX" was the best-selling adult movie of 2010, according to adult video news (AVN).
"When we started this business about 26 years ago, it was completely different than it is today," says Vivid founder and co-chairman Steven Hirsch. "It was a very small business. The people in the business didn't really talk about it; they were sort of underground. Over time, it really started to change and I think we had a lot to do with that. We began to really court the media, go out there and talk about our movies and talk about our girls."
Vivid further distinguished itself from other companies by putting six-figure budgets behind its movies, not only to get talent and prominent adult film directors like Axel Braun and B. Skow, but........

READ FULL ARTICLE