AXEL BRAUN RELEASES 'ELVIS XXX: A PORN PARODY' TEASER ON YOUTUBE
AXEL BRAUN RELEASES 'ELVIS XXX: A PORN PARODY' TEASER ON YOUTUBE
Vivid to Distribute Movie that Goes into the Bedroom with the King of Rock 'n' Roll
LOS ANGELES – (December 20, 2010) – Celebrated film director Axel Braun has released a teaser for "Elvis XXX: A Porn Parody", on YouTube and on www.vivid.com. The footage is based on his upcoming movie, a richly produced and detailed but funny imagination of the sex life of "The King" that will debut on January 8th, 2011 to coincide with Elvis' birthday. "Elvis XXX: A Porn Parody" will be distributed exclusively by Vivid Entertainment.
Check out the Teaser Trailer for Superman XXX: A Porn Parody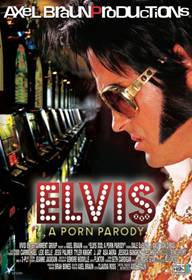 Watch Batman XXX: A Porn Parody Now! Click Here!
"The movie is a fictionalized version of events that took place during the course of Elvis' life, as told by several (fictitious) friends/family," says Braun. "We've fabricated what could have been disclosed by his driver Billy Boy (played by Alec Knight), his delusional illegitimate daughter Shirley (a hilarious Amber Cherry), his gay make-up artist Sergio Bartoletti (James Bartholet), and his second cousin thrice removed, Melvis Presley (played by Ron Jeremy).
Axel's painstaking attention to detail went beyond simply recreating the costumes and Elvis' moves. "Being a huge Elvis fan it was very important for me to be extremely respectful, and I actually made sure that all the timelines were correct, the dialogue and terminology used were appropriate to each period, and that the events described or mentioned had a basis in reality."
In addition to Elvis the movie includes parodies of James Dean (played, of course, by James Deen) and Natalie Wood (Jessi Palmer, in her very first anal scene) on the set of "Rebel Without a Cause", Muhammad Ali (played by real-life boxer Tyler Knight), Priscilla Presley (a stunning Andy San Dimas), andAnn-Margret (Lexi Belle at her most phenomenal) who gets to have sex with Elvis on the set of "Viva Las Vegas."
"Elvis XXX: A Porn Parody" features several hilarious parodies of famous songs, and some great dance numbers as well. Two actors play Elvis at different stages of his life: newcomer J.Jay delivers an impressive performance as young Elvis, while comeback king Dale DaBone (nominated for Best Actor for his outstanding performance in Braun's blockbuster hit "Batman XXX: A Porn Parody") is simply electrifying as the 70's Elvis. Other supporting players are Asa Akira, Jessica Bangkok, and the gorgeous Codi Carmichael.
DISCLAIMER: Elvis® is a registered trademark of Elvis Presley Enterprises, Inc. "Elvis XXX: A Porn Parody" is not sponsored or endorsed by Elvis Presley Enterprises, Inc. or any person or entity associated with it.