Vivid's Tristan Taormino Explores The Big O in New Expert Guide to Female Orgasms
LOS ANGELES – (December 13, 2010) – The newest edition of Tristan Taormino's award winning series of Vivid-Ed instructional sex tapes promises to be a best seller with both men and women: "Tristan Taormino's Expert Guide to Female Orgasms" is, the director says, "the best film I've made for Vivid-Ed."
On sale at adult stores nationwide and online through Vivid.com on December 20th, the newest guide features women's personal journeys to experience orgasm in very different ways. Five diverse couples talk openly about techniques that work for them, then demonstrate with skill, enthusiasm and passion.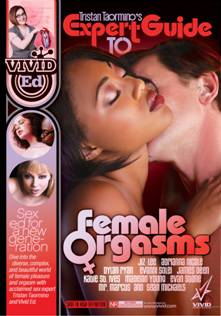 "Female orgasms are as unique as the women who have them," says Taormino. "Yet too many women struggle in the search for erotic fulfillment alone or with a partner. We show women who have never had one how to have their first orgasm. We show all women how to have better, longer, easier, or more intense orgasms, whether alone or with a partner, and we explore a lot of variations on the theme from oral to vaginal to anal and beyond."
"I think this the best film I've made for Vivid-Ed," she adds. "It brings together all my knowledge as a sex educator and my experience teaching hundreds of workshops around the world about female sexuality. I've talked to thousands of women about their quest for sexual pleasure and satisfaction, and I wanted to answer all their questions in one movie. Because every woman's experience—what turns her on, what techniques work for her, what her body responds to, and what pushes her over the edge—is different, my goal was to show this incredible diversity. I did it by documenting the experiences of the performers as organically as possible. They chose everything in their scenes: their partners, positions and favorite toys. The result is a great tool for individuals, couples, sexual health advocates, sex educators, and therapists."
"Tristan Taormino's Expert Guide to Female Orgasms" stars Katie St. Ives, Sean Michaels, Evanni Solei, Evan Stone, Jiz Lee, Madison Young, Dylan Ryan, Mr. Marcus, Adrianna Nicole and James Deen, with special appearance by Taormino herself.
"We've already received a lot of pre-orders from retailers for this title," says Hyland Church, Sales Director for Vivid Entertainment. "Tristan's Vivid-Ed line always does well for us, but there is a lot of buzz about 'The Expert Guide to Female Orgasms' in particular. Even couples who may be shy about erotic movies will enjoy it. It is jam-packed with information and has an all-star cast and tons of extras, so I know it will do really well."
See all Vivid Ed Movies now! Get Instant Access to Vivid.com